Colorful, appetizing, we could say a complete meal, simple …. simple? Not really. It certainly doesn't take an Executive Chef to do it, but a little time and passion are 2 fundamental ingredients. The material ingredients start from a sort of puff pastry made out of flour, water and oil that has nothing to do with the buttery sheet of French origin. Inside there's a filling of eggs, rice, cheese and vegetables, basically chard and courgette. Each family has its own recipe, more or less rich, from the variation between parmesan and ricotta to the choice of vegetables. I made a further modification, replacing the rice with the potato and adding different qualities of vegetables. Lets start.
I decided to prepare the vegetables for the filling directly in the pan, in order not to lose any element and above all no flavor, in the boiling water. I simply put all the ingredients in a hot pan with a drizzle of oil, one after the other, depending on the cooking time needed. I start with the potato and carrot cubes, followed by the tufts of broccoli, the peas, the slices of leek, the strips of cabbage, the chopped leaves of chard (no courgettes, it's winter and I don't have any frozen). I cook everything in a pan while I add the salt. The vegetation waters allow to cook slowly without adding any more liquid.

In the meantime, I beat the eggs and added the ricotta, in this cream I will put the vegetables once cooked and cooled.

I kneaded the dough by hand, it must be smooth and soft, soft on the fingertips. I divide into 2 loaves of different sizes, leave them covered for at least half an hour. I roll first one and then the other sheet with a rolling pin, giving the final touch with my hands. It's done, I lay the largest sheet in the greased pan, spread the filling, cover with the second sheet, join the two along the edge and finish by drawing a spiral of our extra virgin olive oil on the surface.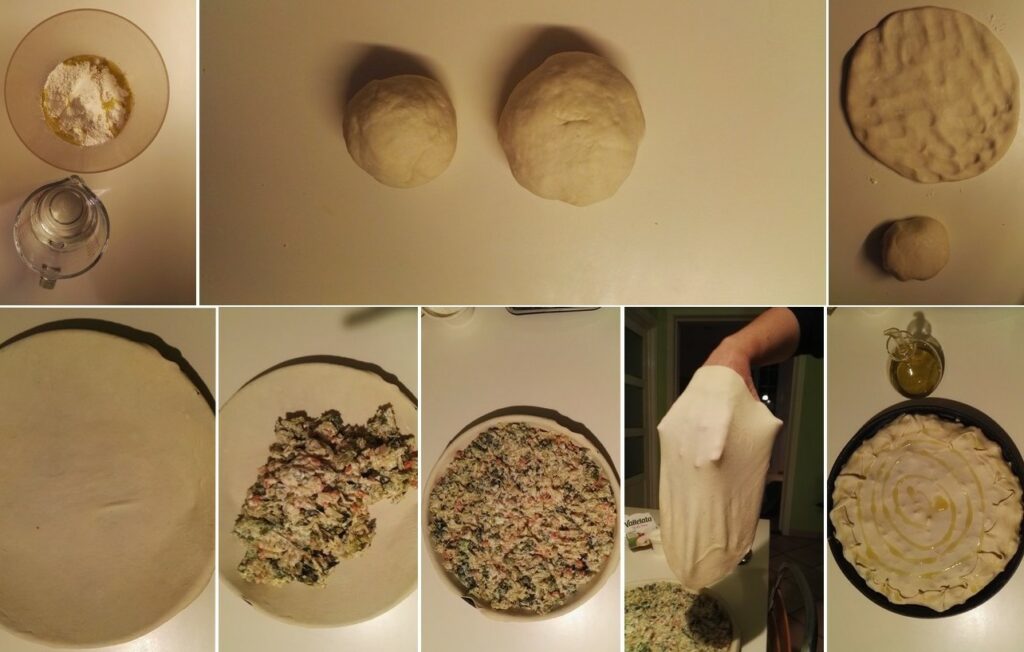 From the oven all the scent of our land is released, first the oil, then the poor but tasty pastry and finally the aroma of the filling .

Still warm, I can savor it, savor it and already imagine a future one, with new additions or changes. This is also why I like to prepare it, every time I manage to create it with a different element, The vegetables pie … it's NOT over!

Share this post





-----------------